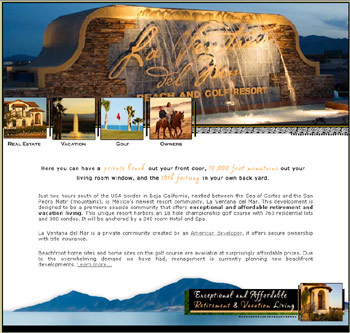 El Dorado Ranch offers an ideal place to vacation or retire. Located near the town of San Felipe, Baja California, Mexico, you'll find everything from empty, white sandy beaches to 10,000 foot mountains.

El Dorado Ranch offers tens of thousands of acres of pristine land for your enjoyment and we aim to keep it that way. We are fully committed to protecting the environment and utilizing environmentally friendly alternatives in our developments.
La Ventana del Mar. This development will be designed to be a premiere seaside community that offers exceptional and affordable retirement and vacation living. Beachfront and "lots on the golf course" are available at surprisingly affordable prices. This unique community will be developed in phases and will ultimately harbor an 18 hole golf course with 760 residential lots, and will be anchored by a 240 room Hotel, a Spa and 300 condos.